The Advantages of an Established Aviation Law Firm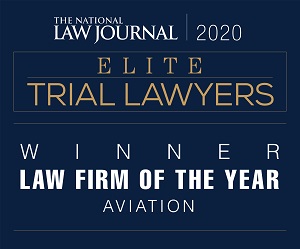 The aviation accident team at Clifford Law Offices, a Chicago aviation law firm, is experienced with mass commercial airline disasters, such as the Roselawn, Indiana plane crash of 1994 where they were lead counsel. As part of an established law firm that concentrates in aviation cases, our aviation lawyers can pursue complex accident litigation that often demands too much time and too many resources of the client.
Click here to download our Aviation Brochure.
The Aviation Law Firm Develops the Case
According to the National Air Traffic Controllers Association, there are approximately 87,000 flights in domestic skies at any single time, a third of which are commercial carriers. Our daily lives are dependent on air travel. Whether for work, family or other personal reasons, not a day passes when many of us or our loved ones embark on a flight. Although mass commercial disasters do not occur often, which illustrates the attempts to keep safety built into our national aviation infrastructure, when accidents do happen, the tragedy is impressed upon the national consciousness. Often the accidents were avoidable. Structural defects, pilots' errors, maintenance deficiencies, design defects, air traffic safety controller decisions, and many other factors can contribute to why a plane crashes. These are all considered by an aviation lawyer and law firm when building a case.
The National Transportation Safety Board (NTSB) is the government agency responsible for investigating and determining the cause of an airplane crash. Among the factors attributed by the NTSB for initiating the sequence of occurrences leading to either a minor accident or serious plane crash are pilot error and aircraft malfunction. Even if weather conditions such as turbulence or ice buildup occur during the cruise or descent phase of the flight, are a factor in a plane going down, these weather conditions generally are foreseeable and the handling of the aircraft in these conditions is part of a pilot's training.
What Causes Commercial Airline Crashes?
Isolating the cause or causes of a crash is an immensely difficult job; however, there is an answer to that question in nearly every case. When a reputable aviation law firm is involved, the aviation accident lawyers will work with these facts to help their clients build a solid case. For example, in the crash of Alaska Air Flight 261, the cause was determined to be a single jackscrew. The NTSB as well as the independent work of Clifford Law Offices' legal team, which took nearly 100 depositions in the case, discovered the information after years of intensive examination and research.

In another tragic plane crash case, American Eagle Flight 4184 went into an 'uncommanded roll' as a result of ice buildup that was allowed to accumulate due to the faulty design of a pneumatic boot in the wings. Ice buildup would have been less of an issue, were it not for the faulty design of the de-icing boot. To arrive at this causal determination, Clifford Law Offices utilized its extensive network of aviation experts to provide evidence of faulty design. Moreover, Clifford Law Offices dispatched its experienced aviation accident legal team to take depositions of foreign corporate and governmental employees in countries including France and Sweden.
Within civil litigation, aviation cases are among the most time and resource intensive. The resulting wreckage of a mass commercial airplane impact will usually obscure the cause of the plane accident, creating an overwhelming task for the aviation lawyer. By its nature, the litigation associated with these aviation accidents and incidents requires meticulous investigation and interrogation of all the elements that could possibly provide insight into what went wrong. These elements include the scene, witnesses, airplane manufacturers, designers, parts suppliers, maintenance records and crews, and industry experts. Consequently, an undertaking of this scale is possible only if handled by an experienced aviation law firm with extensive resources that can be marshaled in the effort to represent its clients.
Clifford Law Offices has a great deal of experience in litigating commercial airline crashes. For more information on some of our aviation cases, please visit our record of justice.
We seek justice for commercial airline crash victims
Continental Airlines
What should have been a routine Newark-to-Buffalo flight ended in tragedy as the Bombardier Dash 8-Q400 crashed into a house, killing all 49 people on board and a man on the ground. Initial National Transportation Safety Board hearings revealed numerous mistakes made by inexperienced, fatigued pilots and an aircraft that should have been better equipped.
Comair
When a Comair jet crashed in Kentucky on August 27, 2006, 49 of the 50 people aboard died. A crew on an early morning flight violated the sterile cockpit rule when they weren't paying close attention and used a runway that was unlit and too short. Our aviation accident lawyers represented five families including a Canadian passenger who was on board.
Helios Airways
Robert Clifford, the founder of our aviation law firm, was appointed Liaison Counsel, or spokesperson, for all the American families who lost loved ones in a Cypriot jet crash in Greece in 2005 that killed 121 people. The pilots apparently lost consciousness after the cabin pressure dropped. Boeing, one of the defendants, has already revised its training manuals in response to allegations that design defects may have led to the pilots' confusion in identifying an incorrectly set pressure valve.
9/11 Disaster American Airlines and United Airlines

Robert Clifford, partner and aviation accident lawyer at Clifford Law Offices, served as Liaison Counsel for all property damage claims arising from the destruction of the World Trade Center on September 11, 2001, when two Boeing 767 jets slammed into the 110-story steel structures.
Southwest Airlines
Clifford Law Offices' aviation attorneys represented the family of six-year-old Joshua Woods, who died in 2005 when a Southwest Airlines plane slid off a runway and hit the family car on a nearby street. We sent experts and investigators to examine the cause of this tragic accident. The Federal Aviation Administration (FAA) has already recommended changes in braking procedures and distance calculations.
Turkish Airlines
In 2003, a Turkish Airlines plane tried to land in a thick fog in southeastern Turkey, but crashed. Clifford Law Offices was chosen as the aviation law firm to represent the wife of the only American aboard, an architect who died that day while traveling on business.
Singapore Air
A Boeing 747 entered the wrong runway at the airport in Taipei, Taiwan, in heavy rain and winds in 2000. When it tried to take off, it collided with construction equipment and burst into flames. Clifford Law Offices' aviation accident lawyers represented the family of an American businessman who died in the tragedy.
Alaska Air
Alaska Air Flight 261 crashed into the Pacific Ocean in 2000 carrying 88 passengers, many homebound for Seattle from sunny Puerto Vallarta. Our aviation law firm represented seven families who lost loved ones. Aviation attorney, Kevin Durkin, deposed more than 80 people, including airline executives and aviation experts, over a three-year period to determine the cause of the crash – the airplane's jackscrew system. Even though the National Transportation Safety Board gave the company a virtual pass in its report of the accident, our airplane accident lawyers did the work needed to prevail on behalf of the families we represented.
Tarom Airlines
Tarom Airlines Flight 371 crashed in Bucharest, Romania, on March 31, 1995, while en route to Brussels, Belgium, killing all 60 people aboard. Therese Chung, a business consultant, was killed on the flight. The Romanian Transport Ministry found that the cause of the Airbus crash, and French and Belgian experts agreed, was that the pilot became affected by health problems shortly after takeoff, causing the aircraft to go into a spin when the throttle fell idle. The co-pilot was able to switch on the autopilot, but this function refused to carry out the procedure because the necessary parameters were not met, according to the chief inspector of the Romanian Civil Aviation Authority. Richard Burke flew to France to take the depositions of airline employees, and then settled the matter for $4.7 million.
American Eagle
In 1994, Robert Clifford served as lead counsel for the American Eagle Flight 4184 crash in Roselawn, Indiana. The experienced airplane crash lawyer had prepared PowerPoint presentations to explain the case, video taped the testimony of dozens of witnesses, and professionally produced day-in-the-life videos of the 16 victims he represented. As the trial was ready to begin, the defendants agreed to a record $110 million settlement and an apology in open court.
United Airlines
The passengers on United Airlines Flight 232 were thrown from the plane when it crash-landed in flames into a soybean field in Iowa in 1989. The jury took less than three hours to return a verdict of $28.2 million on behalf of a 70-year-old woman with permanent injuries and for the loss of her husband seated beside her. Robert Clifford, her aviation accident lawyer, also obtained a $15 million settlement for a father who lost his wife and daughter, and an additional $250,000 donated for a bereavement center at Children's Memorial Hospital in Chicago in their names.

Contact Us
Aviation accident attorneys and aviation attorneys with Clifford Law Offices' aviation law firm are experienced with mass commercial airline disasters, such as the Roselawn, Indiana plane crash of 1994 where they were lead counsel. Aviation lawyers can pursue complex aviation litigation, which takes both time and resources. Speak with our legal team today at (312) 899-9090.