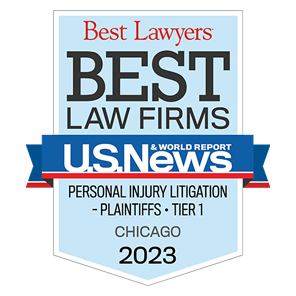 An underride accident refers to a tractor-trailer accident in which a passenger vehicle smashes into the trailer and wedges beneath it, often causing catastrophic or fatal injuries. Underride accidents can stem from many different types of truck company and truck driver negligence. After a harmful underride accident in Chicago, Illinois, contact Clifford Law Offices for a free case evaluation. Our attorneys have the experience and skills you need after an underride accident.
We have won more than $4 billion in compensation for our clients.
When you use the services of a Clifford Law Offices' attorney, you will be able to speak with him or her when you need to, rather than to a secretary or paralegal.
Because we work on a contingency fee basis, you will not even receive a bill unless we win your case for you.
The size and height of 18-wheelers generally result in serious, life-threatening injuries for victims of underride collisions. Work with our attorneys to optimize your odds of a successful insurance claim or personal injury lawsuit. Do not settle for less than your injuries are worth. Call (312) 899-9090 to speak with an experienced attorney.
Causes of Underride Accidents
The idea that all rear-end collisions or underride accidents come down to the fault of the rear driver is a misconception. While speeding and tailgating increase the risk of these collisions, hundreds of underride accidents every year are the fault of the trucking company or driver – not the person operating the rear vehicle. An investigation of the crash could find evidence of someone else's negligence and liability, including:
Broken brake lights or lack of reflective tape on the back of the truck
Lack of proper lights when a truck is turning or parked in the road
Truck driver recklessly slamming on the brakes
Truck driver making an illegal U-turn
Absent or ineffective underride guards on the trailer
Many drivers assume fault in these situations. Even if you believe you are at fault, avoid saying so or apologizing. Fault is mere speculation until an investigation determines it. Factors you are not yet aware of may have contributed to your injuries, such as a defective seatbelt or dangerous road conditions. Discuss your case with a lawyer regardless of who is at-fault – our attorneys may see evidence that makes the accident more complicated than it would seem.
Underride Accident Injuries
Underride accidents are some of the most serious incidents involving Clifford Law Offices. Often, it is the family members of deceased loved ones who seek our counsel after a fatal underride collision. If you have survived such a crash, you may be recovering from significant personal injuries. Some of the most common include:
Broken bones
Severe lacerations
Internal organ damage
Traumatic amputation
Whether you seek information about compensation for your injuries or a loved one's sudden death, explaining your situation to one of our attorneys may be your best option for fair compensation. You may be eligible for compensation that would include future loss of earnings or loss of consortium, among other damages. We have secured more than $4 billion in damages for past clients.
Request a Free Underride Accident Case Review
Schedule your free truck accident case evaluation today by calling (312) 899-9090 or submitting our online contact form. We will get back to you as soon as possible to discuss your options in Chicago. Our initial meetings with clients are always at no cost or obligation to retain our firm. If we think you have a case and you decide to hire our firm, we will be upfront with you about our fees. You will not pay anything unless you receive compensation.