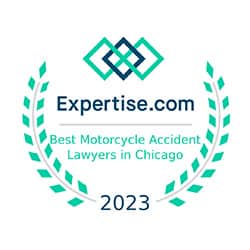 Motorcycles are a popular form of transportation, with the number of registered motorcycles in the United States growing from 4.3 million in 2002 to 8.6 million in 2021. However, the increase has tragically resulted in a rise in motorcycle accidents and injuries.
Since motorcycles do not have the protection of a 3,000 – 4,000 pound vehicle, death and serious injuries can include brain injury, spinal cord injury, loss of limbs, fractures, and broken bones. The results from a motorcycle account are severe, and finding a Chicago motorcycle accident attorney is critical to getting the compensation and help you deserve.
Navigate This Page
Motorcycle Accident Rates Across the U.S. and Illinois
The National Highway Traffic Safety Administration (NHTSA) found that motorcyclists account for about 14 percent of all traffic-related deaths in the U.S. In 2019, the most recent year for data, 5,014 motorcyclists died in fatal crashes. According to per vehicle miles traveled in 2019, motorcyclists were roughly 29 times more likely than occupants of passenger vehicles to die in a crash. Additionally, motorcyclists were four times more likely to be injured.
In our home state of Illinois, motorcycle fatalities account for about 14 percent of Illinois traffic fatalities. Recently, the number of motorcyclists killed sadly increased by 3.9%, with 86.3% of fatal crashes happening on dry roads and 48.9% of the time occurring during daylight hours. Even during good conditions, fatal crashes can tragically still happen.
What Are the Common Causes of Motorcycle Crashes?
Some of the most commonly documented causes of motorcycle crashes include:
Lane-switching: Drivers of passenger cars that are distracted, speeding, or driving through areas of low visibility are especially vulnerable to this type of crash.
Collisions between motorcycles and cars making left-hand turns: This type of accident is especially dangerous for motorcyclists because of the size of motorcycles compared to passenger vehicles.
Road hazards: Unexpected bumps, holes, gravel, or construction debris in the road can be hazards for motorcyclists.
Weather: Rain, sleet, snow, and ice can lead to slick and dangerous road conditions for motorcyclists.
Common Injuries from Motorcycle Crashes
Injuries from motorcycle accidents can range from shallow cuts and scrapes to life-threatening internal damage. Some of the most common injuries include:
Road rash
Lacerations
Whiplash
Broken ribs or limbs
Internal bleeding
Spinal injuries
Lower-extremities injuries
Long-term Costs Associated with Serious Motorcycle Accident Injuries
The severity of an injury from a motorcycle accident can determine the long-term costs associated with being involved in a motorcycle crash.
Short-term costs might include fixing damage to your bike or paying for hospital bills immediately following the accident. The NHTSA notes that hospital bills comprise the majority of eh expenses for motorcyclists involved in crashes.
However, there are also several costs that are possible to incur in the event of an accident:
Ongoing medical treatment: This can include physical therapy visits and follow-up visits, as well as medical care for more permanent injuries that could happen because of an accident.
Pain and suffering: Motorcycle crashes are psychologically traumatic. The impacts of them could result in long-term emotional issues for those involved.
Lost wages: Severe injuries could prevent the injured person from returning to work for weeks, months, or even years. This could drastically impact the ability of the injured person to provide for their family and themself.
Who Is At Fault in a Motorcycle Accident?
This is a complicated question, and a Clifford Law Offices expert will go to great effort and detail to figure out the cause of the accident, the acts of negligence, and who is at fault. Some common issues include:
The vehicle driver who crashed into the motorcyclists was fatigued or under the influence of drugs and alcohol.
The road was not properly maintained, and a pothole or debris from a construction site caused the accident.
The vehicle driver who crashed into the motorcyclists neglected to properly maintain their car leading to a brake failure or tire blowout.
We will also examine motorcycle accident victims' losses. This could include medical expenses, lost wages, future earnings, future medical care, pain and suffering, grief, sorrow, mental anguish, loss of quality of life, and other possible damage claims.
The Chicago Motorcycle Accident Lawyers at Clifford Law Offices Have a Tradition of Success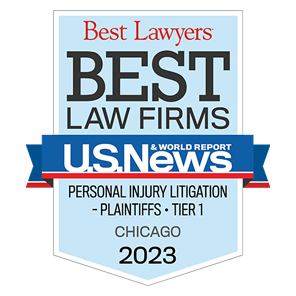 Clifford Law Offices has extensive experience in motorcycle accidents. Some recent cases include:
$1.3 million result for the father of one who was negligently killed while riding his motorcycle in Indiana.
$1 million settlement for a passenger of a motorcycle whose leg was severely crushed after a collision with a van.
$380K result for a 33 year old, who was a passenger on a new custom motorcycle, gets thrown from vehicle and sustains fractured skull when front wheel locks up because of manufacturer's improper lubrication of wheel bearings.
More results from our law firm can be found here.
Drivers and manufacturers must be held accountable for their negligent actions that lead to devastating outcomes for motorcyclists. Our highly experienced Chicago motorcycle accident attorneys will fiercely advocate for you and fight to get you the compensation and answers you deserve.
Speak with A Chicago Motorcycle Accident Lawyer Today
Clifford Law Offices has been representing motorcycle riders who have been the victims of accidents for 30 years. The combined experience of our injury attorneys adds up to hundreds of years of personal injury and wrongful death work.
Our attorneys will fight the insurance companies for you and help you seek maximum compensation. If you or a loved one has suffered a motorcycle accident due to someone else's negligence, please call Clifford Law Offices, experienced Chicago motorcycle accident attorneys, at (312) 899-9090. You may also fill out our contact form for a free consultation with our law group.

Testimonials
"Mr. Squillace goes above and beyond to not only address your needs, but he also really listens and provides sincere feedback, which goes a long way when you're in pain and dealing with the unknown. He really works hard to make sure you get the best options for your case and is results driven. To feel like you're in good hands at Clifford Law is an understatement. You feel like someone actually cares about what you're going through"
-W.H.
Areas We Serve
Arlington Heights | Berwyn | Calumet City | Elmhurst | Chicago Heights | Crystal Lake | Barrington | Barrington Hills | Lincolnwood | Algonquin | Westmont | County Club Hills | Carpentersville | Batavia | Bensenville | Cicero | Carol Stream | Chicago Ridge | Bridgeview | Buffalo Grove | Aurora | Westchester | Channahon | Elmwood Park | Winnetka | Naperville | Bloomingdale