Motorcycle Accident Attorney in Chicago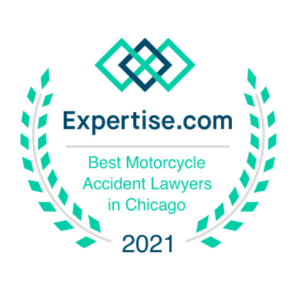 Motorcycles are a popular form of transportation, with the number of registered motorcycles in the United States growing each year. With that increase comes a rise in the number of motorcycle accidents. In fact, over the last 10 years, the number of motorcyclist fatalities has nearly doubled. The National Highway Traffic Safety Administration (NHTSA) reports that in 2004 there were 5,780,870 motorcycles registered in the United States. In 2005, 4,553 motorcyclists were killed and 87,000 were injured in motorcycle crashes across the country. Serious injuries can include brain injury, spinal cord injury, loss of limbs, fractures, broken bones, and other severe problems as a result of motorcycle accidents.
Illinois Motorcycle Accident Rates
In Illinois 157 motorcyclists were killed in 2005, the seventh highest number of fatalities of all the 50 states. These 157 fatalities made up for 12 percent of all traffic fatalities in the state.
In 2004, drivers and passengers of motorcycles were 34 times more likely than car passengers to die in a traffic crash. The NHTSA reports that an estimated 132,000 motorcyclists have died since the enactment of the Highway Safety and National Traffic and Motor Vehicle Safety Act of 1966. In 2005, half of all motorcycles in fatal crashes collided with another vehicle while another 26 percent of fatal motorcycle crashes were due to colliding with stationary objects.
Contact our Chicago, IL Motorcycle Accident Attorneys
Clifford Law Offices has been representing motorcycle riders who have been the victims of serious accidents for 30 years. The combined experience of the attorneys adds up to hundreds of years of personal injury and wrongful death work. A Clifford Law Offices' motorcycle accident attorney examines the cause of the crash. It can be an issue of motorcycle maintenance, driver fatigue, driver negligence, excessive speed, alcohol use, tire blowouts, sudden braking, brake failure, unsafe safety systems or warning devices, failure to yield the right of way, tailgating, or unsafe road conditions. The firm will also examine the motorcycle accident victims' losses that include medical expenses, lost wages, future earnings, future medical care, pain and suffering, grief, sorrow and mental suffering, loss of quality of life and other possible damage claims.
Tradition of Success
For example, Clifford Law Offices represented an off duty Prospect Heights police officer who was sideswiped while riding on a motorcycle on Interstate 90/94, resulting in a broken leg and other injuries. Richard Burke, respected Illinois motorcycle accident lawyer, represented a motorcycle rider who suffered a fractured skull after being thrown from his motorcycle because of a machinery defect. A settlement for $1 million was obtained on behalf of a female passenger of a motorcycle whose leg was severely crushed after a collision with a van.
All of these are tragic motorcycle crashes and all of them required experienced Chicago motorcycle accident lawyers. Drivers and manufacturers must be held accountable for their negligent actions. Clifford Law Offices represented these families and got answers for them that they deserved.
Speak with our Chicago motorcycle Lawyers Today
The Chicago motorcycle accident lawyers at Clifford Law Offices have successfully prosecuted many cases from motorcycle crashes and motorcycle accidents and are available for consultations. We will help you seek maximum compensation so you can cover medical bills and not worry about dealing with the insurance companies.
Please call Clifford Law Offices, experienced Chicago motorcycle accident attorneys, at (312) 899-9090.