Product Liability Attorney in Chicago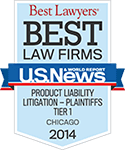 At any moment during a person's day, a products liability claim can develop without notice. From lead in toys to tires on vehicles that we trust to safely transport our families, the consequences of a defective product can be devastating. The area of law that has developed to remedy these situations is called products liability, and a qualified products liability attorney from one of the top Chicago law firms can guide victims.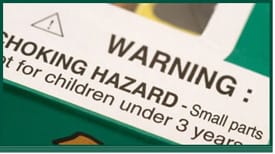 Today's top Chicago law firms recognize that products liability often involves complex litigation. The nature of a products liability claim is dependent on the jurisdiction, the type of product, and the variety and cause of the defect. Product defects can surface in different facets of the user experience, including defects in design, manufacturing, or when a manufacturer fails to warn of associated dangers in the product's use. Moreover, the liability in these cases can rest on many different parties from the supply chain up to the original manufacturer. After gathering all of this information, a knowledgeable product liability attorney will determine the appropriate type of claim that should be pursued, whether it's negligence, strict liability, breach of warranty, or fraud.
As one of the top Chicago law firms, Clifford Law Offices has often been a pioneer in the field of consumer safety. From airplanes to automobiles, baby blankets to household products, and toys to sports equipment, Clifford Law Offices has represented a wide array of products where the product design, manufacturing or warning was unsafe. For example, a client of the firm testified at a U.S. Senate hearing, conducted in Chicago, on the lack of safety of dangerous magnetic toys that severely harmed her young son's intestinal tract. Rollovers of SUVs have also been a highly litigated issue at Clifford Law Offices, involving various automotive and truck manufacturers. Through the creative application of both law and engineering on behalf of its clients, Clifford Law Offices has worked with safety experts throughout the world to prepare and develop cases. Thanks to the clients that relied on the skills and resources of their product liability attorney, the end results have been that many dangerous and failed products are now safer.
Clifford Law Offices' Product Liability Attorney Cases
Robert A. Clifford, Kevin P. Durkin, – $6,100,000 Partial Settlement: Man crushed by punch press machine at factory.
Kevin P. Durkin – $4,405,000 Settlement: 23-year-old tenant dies from carbon monoxide caused by a pool heater in the building's garage that was in violation of city ordinances.
Robert A. Clifford – $825,000 Settlement: 31-year-old mother ejected from vehicle during rollover sustained multiple fractures to her pelvis, leg and spinal vertebrae.
Bicycle Helmet Design
Construction Equipment
Medical Appliances
Toxic Torts