Click here to view the 2016 webinar
Please note: the recorded webinar is not approved for CLE.
The objectives of this program are to familiarize attorneys with the Rules of Professional Conduct involving pre-trial and trial issues.  Typically, that involves evidentiary issues that face lawyers on a day-to-day basis – from witness preparation to spoliation of evidence, calling a party as a witness to influencers in closing argument.  In particular, the objective of the course is to promote the civility of lawyers' conduct in preparation of trial and during trial.  Lawyers will be made more aware of the particular Rules that govern their conduct.  Hypothetical questions will be posed and a discussion by the panelists will ensue, exploring various answers to the professional responsibility issues raised using the Rules of Professional conduct as well as case law.  The two-hour long webinar will allow attendees to ask questions, including those on the internet, of the moderator and panelists who will respond to as many as possible during the two-hour program.
Clifford Law Offices, a CLE provider, has been offering a two-hour free program for the past eight years for lawyers across the state. Robert A. Clifford, founder and senior partner at the firm, will serve as moderator of the program that has been approved for two hours of professional responsibility credit by the Illinois Commission on Professionalism.
MCLE Information: Clifford Law Offices is an accredited Illinois MCLE provider. This program has been approved for 2.00 hours of professional responsibility credit in Illinois, Missouri, and Ohio.
Date: Thursday, Feb. 18, 2016
Time: 2:30-4:30 p.m.
Place: DePaul University College of Law, DePaul Center, 1 E. Jackson Blvd., Room 8005, Chicago, IL
Moderator:
Robert A. Clifford, Senior Partner, Clifford Law Offices

He was named by Chicago Magazine as one of the 100 Most Powerful Chicagoans since 2013 and was named the 2012 Chicago Lawyer Person of the Year based upon his trial accomplishments, his contributions to the legal community and to the Chicago area. He is founder of Clifford Law Offices, a nationally recognized personal injury law firm in Chicago concentrating in aviation, transportation, personal injury, medical negligence and product liability law. The National Law Journal named the firm one of the Top 10 Litigation Boutiques in the country for 2012 and it was named one of the top 50 Elite Trial firms in the country by that same publication in 2015. The firm was named to the National Law Journal's "Hot List" as one of the 10 Top Litigation Boutiques in the country in 2013.  Mr. Clifford served as President of the Chicago Bar Association in 2011-12, serving the 25,000-member group with initiatives that promoted the bar, the bench and the Chicago community. He has been inducted into the International Society of Barristers, the Inner Circle of Advocates and the American Law Institute, a group of 3,000 prominent judges, lawyers and academics from around the world who are selected on the basis of professional achievements in the law.
Mr. Clifford served the nine-year maximum term as the Illinois State Delegate to the House of Delegates of the American Bar Association.  Mr. Clifford is Past President of the Illinois Trial Lawyers Association and a Past President of the Chicago Inn of Court. He has been inducted into the American College of Trial Lawyers, the International Academy of Trial Lawyers and the National Judicial College. He is a member of the Illinois Supreme Court Committee on Civility, which was established to discover and promote ways to promote civility among lawyers. He also sits on the Board of Directors of WTTW, Chicago's public television station, where he sponsors closed captioning.
As a successful aviation Accident attorney, Mr. Clifford consistently garners multi-million dollar settlements and verdicts in aviation litigation. He has represented those injured or killed in nearly every major commercial airline crash in the U.S. in the last three decades. He served as liaison counsel for the property damage claims in the 9/11 destruction of the World Trade Center, which settled for $1.2 billion. These complex cases were brought on behalf of insurance companies and business interests from around the globe who suffered financial losses after the collapse of the Twin Towers.  He was recently recognized with a Jury Verdict Reporter Award for an $85 million settlement in a qui tam case in which he was among the firms representing the whistleblower. Clifford serves as lead counsel in a data breach case filed against Advocate Medical Group, Illinois' largest healthcare system, involving more than four million patients and is reportedly the largest healthcare date breach in the nation's history. The case is pending in state court. Clifford also serves as class counsel in a class action filed against Pella Windows Corporation, a nationwide window manufacturer and distributor that has been hotly contested litigation since 2006 regarding defective windows. U.S. District Court Judge James B. Zagel of the Northern District of Illinois appointed Clifford "as class counsel for his demonstrated skills in the field." Most recently, the lead plaintiff in the NCAA concussion litigation retained Clifford to represent him and to advocate on his behalf for those similarly situated.  Best Lawyers named him the top lawyer in the Chicago metropolitan area in Plaintiffs' MassTorts/Class Action Litigation in 2016.
Read Robert A. Clifford's Full Bio
Panelists:
Robert Burns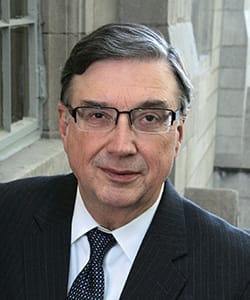 Robert Burns is a Professor of Law at Northwestern University School of Law.  He teaches evidence and professional responsibility in the Bartlit Center for Trial Advocacy and courses in civil, criminal, and administrative procedure. He received the Dean's Teaching Award in 2009 and 2006 and was voted the Robert Childress Memorial Award for Teaching Excellence in 2002, 1998, and 1996.  He is author of A Theory of the Trial (Princeton) and The Death of the American Trial (Chicago).  The latter received a Choice Outstanding Academic Title Award in the Social and Behavioral Sciences for 2009.  He is also author of student texts and workbooks in Evidence, Professional Responsibility, and Trial Advocacy and many articles and book chapters.  He has been voted the Outstanding Professor of a Small Class and received a Dean's Teaching Award.  He has been both the Perkins-Bauer Teaching Professor and the Stanford Clinton, Sr. Research Professor.  He received his A.B. degree Magna Cum Laude from Fordham University in 1969.  He received his J.D. in 1974 from the University of Chicago Law School and a Ph.D. with honors from the University of Chicago with a concentration in the philosophy of law and in logic.
Honorable John C. Griffin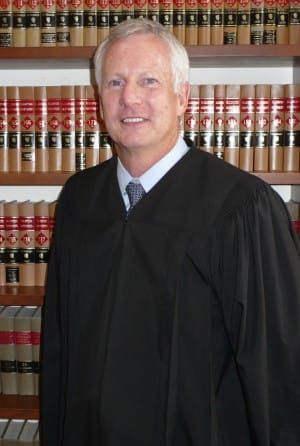 John C. Griffin was admitted to practice in 1976.  Griffin began his legal career as a judicial clerk in the Chancery Division of the Cook County Circuit Court.  He was a partner at Griffin & Gallagher from 1977-2008, during which time he also was a hearing officer for the Secretary of State, a law clerk to a Court of Claims judge and a chair-qualified arbitrator.  He had a general practice including civil litigation, appeals, real estate development and transactions.  In March 2008, Griffin was appointed to a judgeship in the Circuit Court of Cook County.  He was elected as a circuit judge in November 2010.  He was initially assigned to the 1st Municipal District.  On September 22, 2008, Griffin was transferred to the Chancery Division where he was assigned to the Mortgage Foreclosure/Mechanic's Lien Section.  On October 17, 2011, he was assigned to the Law Division, Individual Commercial Calendar Section, where he currently sits.  In January 2015, he became Supervising Judge of the Commercial Section of the Law Division, Cook County Circuit Court. Griffin was appointed as a member of the Illinois Supreme Court's Judicial Conference Committee on Education, through June 30, 2020. Judge Griffin is a graduate of St. Rita's High School.  He then went on to the University of Notre Dame where he graduated in 1973 with a Bachelor of Business Administration degree with honors.  He attended DePaul University College of Law, earning his Juris Doctor cum laude in 1976.
Mary Robinson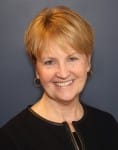 Mary Robinson is a principal in the Robinson Law Group, LLC, where she provides representation, consultation and expert witness services in matters involving lawyer ethics and professional responsibility, including ARDC defense.  She also serves as Shakman Compliance Administrator for Cook County, Illinois, by appointment of the federal court overseeing implementation of decrees which prohibit unlawful political employment practices by the County.  Ms. Robinson began her legal career in 1975 with the Illinois State Appellate Defender in that agency's Third District office in Ottawa, and was later promoted as Deputy for the Agency's Second District Office in Elgin. In 1982, she entered private practice concentrating in appellate, criminal and family law.  In 1989, Ms. Robinson was appointed by the Illinois Supreme Court as a Commissioner of the Attorney Registration and Disciplinary Commission (ARDC), and in 1992, she was appointed as the ARDC's Administrator, responsible for managing the agency and supervising its investigative and prosecutorial work.   She served as Administrator for 15 years, until 2007, when she left to start her own practice.
Ms. Robinson is a frequent speaker for national, state and local bar association programs on ethics and professional responsibility issues.  She is a member of the American Bar Association, the Illinois State Bar Association, the Chicago Bar Association, the Kane County Bar Association, and the Association of Professional Responsibility Lawyers, and has served on numerous bar association committees, including the ABA Standing Committee on Ethics and Professional Responsibility which writes the ABA ethics opinions. She has taught Professional Responsibility at Northwestern University Law School and Northern Illinois University School of Law. She received her law degree from the University of Southern California, and is licensed in Illinois and California.