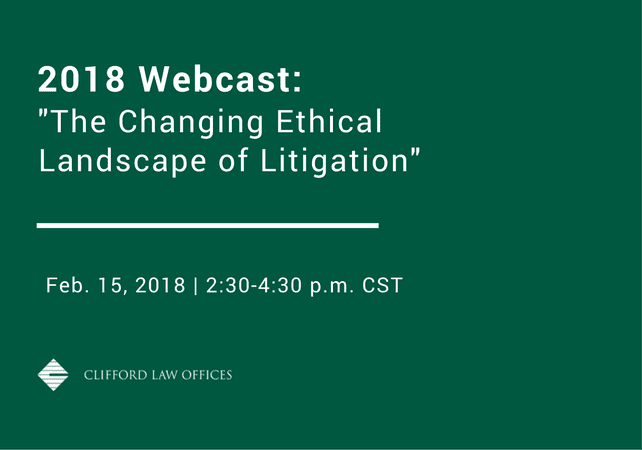 The landscape of litigation certainly is changing, and dealing with new and evolving ethical issues along with it. "Fighting fair" is imperative, but why does it seem to be getting more difficult and complicated to do so? In part it may be because we have new technologies and new players "in the sandbox" with lawyers. Our panel of speakers will break down some of the most pestering yet important issues that impact lawyers every day: confidentiality, privilege and work product, conflicts of interest, contacting non-clients, dealing with experts, disclosure obligations, social media and electronic discovery.
Join us with speakers Jayne Reardon, Executive Director of the Illinois Supreme Court Commission on Professionalism; Lawrence J. Fox, Professor of professional responsibility at Yale Law School and author of several books and treatises on ethics; and Judge Deborah Mary Dooling (ret.) who sat on the Cook County Circuit Court for 23 years and also taught Professional Negligence for the Illinois Judicial Conference. Robert A. Clifford, founder and senior partner at Clifford Law Offices, will moderate the two-hour program.
MCLE Information: The Illinois Supreme Court Commission on Professionalism approved the substance of The Changing Ethical Landscape of Litigation for 2.00 hours professional responsibility credit.
Date: Thursday, Feb. 15, 2018
Time: 2:30-4:30 p.m.
Moderator:
Robert A. Clifford, Founder and Senior Partner, Clifford Law Offices
Speakers:
Judge Deborah Mary Dooling (ret.), Cook County Circuit Court

Judge Deborah Mary Dooling (ret.) is assigned to the Law Division of the Circuit Court of Cook County. She presides over a jury room and hears pretrial conferences, dispositive motions, jury and bench trials and post-trial matters. Pursuant to orders entered by the Illinois Supreme Court, all mass tort litigation in the In Re Actos, In Re DePuy, and In Re Plavix Litigation in the State of Illinois has been assigned to Judge Dooling. From June of 1997, to April of 2003 and then from February 2004 to present, the numerous jury trials over which Judge Dooling has presided include multi-party actions for medical and legal malpractice, personal injury, breach of contract, product liability, and Structural Work Act. A number of these were lengthy, highly publicized, and complex; additionally, several of the cases involved third-party actions for contribution and indemnity. One such trial in a contribution case Willis v. Guzman, et al. No. 98L 3127 involved the invocation of the 5th Amendment by parties and witnesses in a civil trial. This case played a significant part in the federal investigation into the Secretary of State's Office under George Ryan.
In addition to her regular trial assignment, Judge Dooling is Supervising Judge of the Surety Section of the Circuit Court of Cook County. In 2003, Chief Judge Timothy C. Evans entrusted Judge Dooling with the responsibility of overseeing the authorization of all civil sureties and bond certificates in the Circuit Court. Judge Dooling was also additionally assigned to the Chancery Division. In Chancery, Judge Dooling was responsible for an individual calendar that included actions for equitable remedies such as injunctions, declaratory actions, specific performance, administrative hearings and many class actions including the City of Chicago v. Korshak, 01CH 4962 (Cir. Ct. of Cook Co. July 30, 2003), involving the pension benefits of the Chicago Police, Fire and Municipal employees.
Prior to her Law Division assignment, Judge Dooling presided over criminal matters, including a night narcotics and felony trial room. The trial room was an individual calendar, which involved all aspects of criminal practice, including pretrial discovery motions, felony jury and bench trials, fitness and restoration hearings, habeas corpus and post-conviction petitions involving constitutional issues. Many of the criminal cases also involved highly publicized matters as well as issues of first impression. One such case, People v. Earl Hawkins, 181 Ill.2d 41 (1998), presented the unique issue of post-conviction rights following an ancillary determination that the trial judge had been bribed. The Illinois Supreme Court unanimously affirmed Judge Dooling's decision in a published opinion.
In addition to her courtroom duties, Judge Dooling is a frequent participant in continuing legal education programs for law students, lawyers and fellow judges. As an adjunct professor of law at The John Marshall Law School, Judge Dooling has taught trial advocacy since 1992. Similarly, she has been invited annually to lecture about discovery issues in the context of medical malpractice actions at Loyola University Law School. As an appointed member of the faculty for the Illinois Judicial Conference, Judge Dooling taught a seminar on Professional Negligence in April 2001. In July of 2001, the Illinois Supreme Court appointed Judge Dooling a member of the Judicial Conference and a member of the Committee on Discovery procedures. Additionally, Judge Dooling is a frequent moderator and speaker at Chicago Bar Association seminars, speaking on such topics as effective cross-examination and motion practice in a trial court in the Law Division. Judge Dooling also moderated a ICLE seminar on jury selection. Judge Dooling was an invited speaker to a seminar sponsored by the Southwest Bar Association on Supreme Court Rule 213. Judge Dooling has received recognition from DuSable High School and Harlan Community Academy for her work in Moot Court competitions for high school students sponsored by the Chicago Bar Association. She has also taught paralegal students at South Suburban Junior College.
Before her election to the bench, Judge Dooling worked in the legal department of two international corporations and obtained extensive trial practice in both the State and Federal Court system. As an assistant state's attorney in Cook County, Judge Dooling's experience included practice in the criminal, civil and appellate divisions of the office, rising to a supervisory position. She ultimately assumed a position as the legislative liaison for the State's Attorney's Office in Springfield.
Judge Dooling was admitted to the Illinois Bar in 1978 following her graduation from Chicago-Kent College of Law, and then admitted to the Florida Bar in 1981. Judge Dooling is a 1975 graduate of the University of Illinois, Champaign-Urbana, and a 1971 graduate of Sacred Heart High School.
Larry Fox Ethics Professor, Yale Law School

Lawrence Fox is the George W. and Sadella D. Crawford Visiting Lecturer in Law at Yale Law School and a partner of Schoeman Updike Kaufman & Gerber LLP in New York City where he practices in the areas of professional responsibility and corporate governance. He is a former chairman of the ABA Standing Committee on Ethics and Professional Responsibility and a former chairman of the ABA's Section of Litigation.
Jayne Reardon, Executive Director, Illinois Supreme Court Commission on Professionalism

Jayne Reardon is the Executive Director of the Illinois Supreme Court Commission on Professionalism. A tireless advocate for professionalism, Jayne oversees programs and initiatives to increase the civility and professionalism of attorneys and judges, create inclusiveness in the profession, and promote increased service to the public.
Jayne developed the Commission's successful statewide Lawyer-to-Lawyer Mentoring Program which focuses on activities designed to explore ethics, professionalism, civility, diversity, and wellness in practice settings. She spearheaded development of an interactive digital and social media platform that connects constituencies through blogs, social networking sites and discussion groups.
A frequent writer and speaker on topics involving the changing practice of law, Jayne asserts that embracing inclusiveness and innovation will ensure that the profession remains relevant and impactful in the future.
Jayne's prior experience includes many successful years of practice as a trial lawyer, committee work on diversity and recruiting issues, and handling attorney discipline cases as counsel to the Illinois Attorney Registration and Disciplinary Commission Review Board.
Jayne graduated from the University of Notre Dame and the University of Michigan Law School. She is active in numerous bar and civic organizations. She serves as Chair of the American Bar Association's Standing Committee on Professionalism and is a Steering Committee member of the National Lawyer Mentoring Consortium. Jayne also is active in the ABA Consortium of Professionalism Initiatives, Phi Alpha Delta Legal Fraternity, Illinois State Bar Association, Women's Bar Association of Illinois, and the Chicago Bar Association.