Coast-to-Coast Community Involvement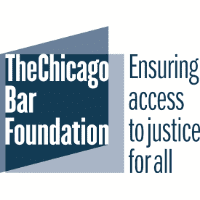 Clifford Law Offices is a Sponsor of The Chicago Bar Foundation
Clifford Law Offices is a Platinum Cornerstone Sponsor for The Chicago Bar Foundation (CBF).
The Cornerstone Sponsorship is designed in advancing CBF's mission.
The CBF ensures that the justice system is fair and accessible for everyone. It is a place where colleagues in Chicago's legal community can come together to make a powerful collective impact in this cause that none of us could on our own.
To view the list of other Cornerstone Sponsors, click here.
---
RAND Institute for Civil Justice
Bob Clifford is one of the Board of Overseers at the RAND Institute for Civil Justice.
According to the RAND website, "[The Board of Overseers] advises the staff on the development of new research projects, consults researchers on issues of impartiality and autonomy in reporting results, and helps to build support for the Institute and its mission."
The RAND Institute for Civil Justice is focused on making the civil justice system more efficient and more equitable through objective, empirically based, analytic research.
To learn more about the institute, click here.
---
Clifford Law Offices Sponsors Chicago Police Memorial Foundation Luncheon

Clifford Law Offices is a sponsor of the Fifth Annual Valor Awards Luncheon Wednesday, October 12th, 2016. The Chicago Police Memorial Foundation's annual luncheon is a fundraiser to honor the lives of Chicago's fallen police officers as well as provide support and assistance to their families.
Along with Robert A. Clifford, founder and senior partner at Clifford Law Offices, Kevin P. Durkin, partner at the law firm, is on the Executive Committee of the Foundation and has long been a supporter of the non-profit organization.
---
Clifford Law Offices Sponsors 1st Annual Illinois Race for the Family
The First Annual Illinois Race for the Family was held June 23, 2012, to help couples become loving parents. The 5K race/walk kicked off at 8 a.m. at the Deer Grove Forest Preserve in Palatine. As one of its many community sponsorships, Clifford Law Offices established a goal of raising $50,000 for the community involvement effort.
The Race for the Family is held in partnership with the Fertility Centers of Illinois and the Cade Foundation, a non-profit organization that serves the needs of families battling infertility through education and outreach in the form of family building grants. Clifford Law's community sponsorship of the event assists these organizations with meeting their objectives.
Savannah's Playground is also a part of the day's community involvement event, offering a free outdoor festival for children and families during the race. While children are entertained, parents are offered safe childcare and education tips about raising their children. One-third of the proceeds from the 2012 Illinois Race for the Family were donated to the Savannah Memorial Fund, which provides $10,000 grants annually to families struggling with infertility to assist with the cost of infertility treatment.
---
Naples Children & Education Foundation Distribute One-Millionth Pound of Food
April 11, 2012
The Naples Children & Education Foundation (NCEF)– founders of the Naples Winter Wine Festival– and Harry Chapin Food Bank of Southwest Florida distributed the one-millionth pound of food for underprivileged and at-risk children in Collier County in Southwest Florida.
Robert and Joan Clifford, the immediate past Co-Chairs of the Wine Festival, spearheaded the 2012 effort that raised $12.2 million during a live auction that reached a grand total of $106.7 million raised since the auction began in 2001.
"We never anticipated any set numbers," Bob Clifford said following the successful event in January, "We were grateful for what we got".
The latest food distribution, which represents just a part of the health and necessities that the foundation provides to thousands of children and their families in the area, drew 350 families who loaded cardboard boxes with carrots, apples, cabbages, onions, potatoes, and other produce along with canned goods, cereal, and meat. Volunteers assisted with registering the families and helped them select nutritious food items.
The community involvement program works in conjunction with Lunch Boxes of Love, a hunger initiative that began in 2011 after the Wine Festival raised $630,000 through a fund-a-need auction lot and began partnering with the Harry Chapin Food Bank. One of NCEF's initiatives is to end childhood hunger. As a direct result of NCEF's work, more than 150,000 children have had their lives improved.
NCEF has 69 trustees that govern the foundation and host the annual Naples Winter Wine Festival in what has been called the most successful charity wine auction in the world. For more information, visit www.napleswinefestival.com.
---
Naples Winter Wine Festival Benefits Underprivileged Children
Bob and Joan Clifford Co-chair Successful Fundraiser in 2012
Since 2001, the Naples Winter Wine Festival has been a highly anticipated event among wine enthusiasts as well as its beneficiaries, the underprivileged and at-risk children of Collier County, Florida. The Naples Children & Education Foundation (NCEF) hosts the annual festival. With community sponsorships and involvement at the center of their philanthropic universe, Bob and Joan Clifford co-chaired the event for 2012. Together, they helped to raise $12.2 million during the live auction, which brought the grand total to $106.7 million raised since the festival's inaugural celebration.
The festival, which was hosted at The Ritz-Carlton Golf Resort in Naples, Florida, welcomed 580 guests to what Wine Spectator magazine has ranked "the most successful charity wine auction" since 2004. The top wine lot for the 2012 event fetched a total of $1.1 million while the highest non-wine bid brought in $600,000 for a lot that included a Baltic Sea cruise aboard a private yacht. Overall, the top lot raised $1.2 million, which featured a private concert by award-winning artist, LeAnn Rimes.
The mission of NCEF is to improve the physical, emotional and educational lives of Collier County's underprivileged and at-risk children. With the help of the Naples Winter Wine Festival in the community, NCEF has increased its financial involvement in pediatric oral health, early childhood education, social welfare, pediatric medical services, out-of-school programs, and childhood hunger.
---
Clifford Law Offices Sponsors Legal Forum
Clifford Law Offices sponsors four weeks of The Legal Forum on Chicago's 750 AM radio. The community sponsorship program features partners from the firm offering 30-60 minutes of legal advice regarding consumer information, such as transportation litigation and aviation cases.
---
Clifford Law Offices Sponsors Aviation Safety Initiatives
Another of the firm's community sponsorships is Robert A. Clifford's financial support of helicopter Search and Rescue Unit Commander Dan Bitton to the Joint International Helicopter Safety Team (JIHST). JIHST is a group of aviation experts, including experts from the Federal Aviation Administration (FAA) and the National Transportation Safety Board (NTSB) who are attempting to reduce the rate of helicopter accidents by 80 percent by the year 2016.
---
Chicago Public Television



Through the generous support of Robert Clifford and Clifford Law Offices, WTTW, Chicago's public television station, was able to purchase equipment for the hearing impaired. Bob sits on WTTW's Board of Trustees, and for the first time in the station's history, local programming is now closed-captioned. As part of his personal commitment to community involvement.
---
Additional Community Sponsorships
Robert A. Clifford and Clifford Law Offices are among the proud sponsors of the Second Annual Phi Alpha Delta (PAD) and Vincent Vitullo Ethics and Professionalism Seminar.
Robert A. Clifford and Clifford Law Offices are proud supporters of the 2009 Legacy Award Campaign honoring Elzie Higginbottom sponsored by the Jane Addams Hull House Association.
---
Making the Holidays a Bit Brighter for the Homeless
In an effort to raise community awareness and involvement, Kevin Durkin and Keith Hebeisen made a sizable donation to the Immaculate Conception Parish, 81st and Commercial Avenue, on Chicago's Southeast side in honor of Robert A. Clifford. Their Christmas gift to Bob Clifford was a monetary gift in his name to the needy and homeless in that community. Regardless of faith or walk of life, the sponsorships help the parish operate a daily food kitchen open to all those in need.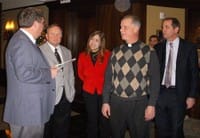 All of the attorneys at Clifford Law Offices also made a large donation to the Franciscan Outreach Association sponsored by the Franciscan Order at St. Peter's Church in Chicago's Loop. The Franciscans operate a facility at 1645 W. LeMoyne St., Chicago, which tries to assist the homeless and indigent with long-term service care. This facility houses an emergency overnight shelter, dining facility, laundry, and case management service.
Pictured is Robert Clifford, partners Kevin Durkin and Keith Hebeisen, and Father Michael Enright of Immaculate Conception Parish. Also pictured is attorney Karina Ayala-Bermejo, Managing Deputy Commissioner of the Department of Human Resources for the City of Chicago, and a parishioner of Immaculate Conception. She introduced the firm to Father Enright's program for the needy, which continues to be an important community involvement effort through program sponsorships.
---
Making a Positive Impact in Women's Healthcare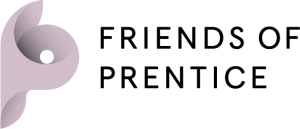 Clifford Law Offices is a sponsor of the Friends of Prentice. Since 1983, Friends of Prentice has made a tangible, measurable difference in women's healthcare and is dedicated to funding superior healthcare for women of all ages and stages in life.
Erin Clifford, Partner at Clifford Law Offices, serves as a board member for Friends of Prentice.